Help & Support
Need Some Answers?
We've got 'em. PrintBoss was created by Wellspring Software — a group of people, like you, who are passionate about their business. We know what it's like to have a question without an answer, so we strive to provide you with answers when and how you want them. Below are a number of ways to find your answers.

We have documents with specific instructions covering our most common questions. As we're all about saving you time, use the search function to find your query fast. Or if you're just here for some light reading, may we suggest the section on positive pay files. It's life changing.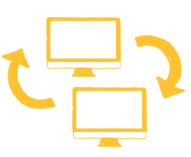 Submit a support ticket online and a PrintBoss support technician will call you. When directed by a support person, click on the Screen Sharing link below to initiate an online support session. You will be prompted to run a connection applet from RingCentral that will allow your screen to be shared. You may end screen sharing at any time by canceling the applet.

For phone support, submit a support ticket online (you will be taken to www.wellspringsoftware.com). We run a queue system and the next available representative will call you back. To receive phone support, an annual service contract is needed. You can order an annual service contract here. All free trial users receive phone support with a verified free trial serial number. We are available from 8:30am — 5:00pm Central Time M-F except National Holidays. For sales related inquiries, please fill out our Contact Us form and a sales person will reach out to you.
Order an annual service plan here.

If you have our annual support plan, you can update PrintBoss to stay current with Windows and/or QuickBooks
®
updates, whenever it is convenient for you. Our updates will not overwrite your customizations & they stay backward compatible with your older QuickBooks
®
versions too.
Order an annual service plan here.
Look, it's about peace of mind and ease of business. We get it and so we offer it.